Play Sift Renegade 3 HTML5 Game Instruction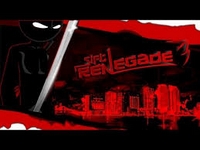 Description
:
Sift Renegade 3 is the third part of the Sift Renegade hack and slash game. This is a role-playing game – fighting with unique fighting content that has created a special attraction for players who love this game genre. The game is built with characters drawn uniquely with different martial arts techniques that create theatrical and dramatic combat scenes.
In Sift Renegade 3, you transform into Kiro, a Yakuza member who is on a dangerous and treacherous mission: finding and destroying traitors who have been doing evil deeds. Use your katana to slash all your enemies; Make awesome combos to eliminate them with style. Armed with a mighty sword, you must fight a lot of enemies. Besides fighting scenes, you can perform exciting missions on a bike.The Sift Renegade 3 game has new maps, new weapons and new moves and unlocked combat moves. This fight will not be easy to complete because the forces of the bad guys are very crowded and strong and the player will have to single-handedly in combat, but with the dodging and reasonable attacks, certainly, you will succeed. Get ready for the toughest battle, find and destroy all set of bad guys to protect justice.
Features of the game Sift Renegade 3
Interesting stickman battle
Motorcycle and shuriken missions.