Play Bloons Tower Defense 4 HTML5 Game Instruction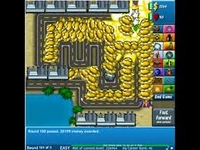 Description
:
Bloons Tower Defense 4 is a defense game with rich content such as lovely monkeys, modern weapons, and smart spying balloons.
In Bloons Tower Defense 4, your task is to control the cute monkeys using weapons to stop the attack of colorful balloons. Destroy the bubbles before they reach the destination in as many numbers as possible by arranging and using different weapons in a logical and effective strategy. During the game, when destroying the bubble, the player will be rewarded and use this money to buy the threats that the player wants, when playing to the higher levels there will be new weapons with new ones. Specific energy and energy. Use effective defense skills to prevent the illegal invasion of these balloons.
Bloons Tower Defense 4 with a familiar playing style such as building a defensive tower, choosing upgrades to your liking, besides being very personal style of Bloon such as hiring agents. Surely you can not ignore this game if you are a fan of the series. Bloons Tower Defense 4 also supports 2-person fighting features, 3 different difficulty levels extremely attractive to help you have moments of great confrontation with relatives and friends.
In Bloons Tower Defense 4, the publisher introduced a lot of improvements including more than 21 new types of defense towers with 2 upgrade directions, 40 different maps, 10 agents, 10 special missions, more 250 casual missions, 3 different game modes, dangerous new enemies and a free play mode after you complete the mission on any map.