Play 3 Pandas In Fantasy HTML5 Game Instruction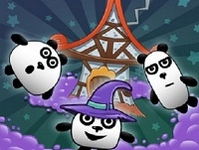 The 3 pandas in fantasy are back! Help them to escape! Each panda has a special trick that they can do to help each other through this journey.
In 3 Pandas in Fantasy, join our friends as they decide to explore a fantasy land filled with fairies, dwarves, mages, ogres, and many other mythical creatures. Thinking the fantasy house is an ordinary attraction at the funfair, the pandas found themselves in a different universe filled with a variety of challenges. Can you help them make their way back home through the levels full of challenging puzzles?