Play Strike Force Kitty 3 HTML5 Game Instruction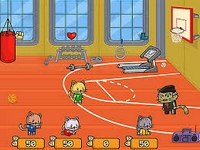 StrikeForce Kitty is back with 3rd edition and is ready to dominate the league in this addictive game. StrikeForce Kitty 3 game brings exciting and exciting adventures to players of all ages.
Join the tournament with your enthusiastic cats, your task in the game StrikeForce Kitty 3 is to try to defeat all your opponents and become the winner. Collect costumes, train your kittens and unlock new skills! You are ready to control these cute but deadly warrior cats. From saving the kingdom to winning tournaments, the lives of these kittens are never boring! Travel to the colorful world of StrikeForce Kitty League and try your best at the local tournament. As a player, your goal is to win matches in each department and become the champion of the tournament. Our kittens are strong, but they will face old enemies in the tournament, like sly foxes and their companions, pandas. When you first start the game, your kittens will need training. With training, you can increase their three stats, which is very important in winning matches. These indicators are health, attack power and speed, and they determine the number of cat attacks before falling, the level of damage they cause and the speed they can attack again. To train your kittens, you can drag them to a device or simply click the stat icon under their portrait. Training depletes your kittens, the energy so they should rest and take the time to eat At the lower part of the screen on the training ground, you can skip the next training day. Plan your training schedule carefully and make sure your cat enters. Arena in top form! Delicious fish biscuits are the currency of the StrikeForce Kitty game series! You can upgrade your equipment of noodles Using fish biscuits you earn by defeating your opponent, keep your team trained and you will become the star of StrikeForce Kitty.