Play Stick Squad 4 HTML5 Game Instruction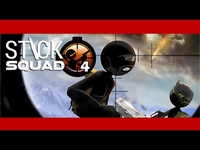 Description
:
Stick Squad is back with the 4th version; this is a free shooting action game with interesting stick-style graphics. You play as a stickman assassin and have the task of destroying terrorism, saving the world, many dangerous but no less humorous missions.
In Stick Squad 4, Agents Damien Walker and Ron Hawking face a new task. They were sent to England to find and stop "The Deadly Seven", who reported hacking the database of the giant StickBook. Your mission in the Stick Squad 4 game is to help Damien Walker and Ron Hawking find the bad guys and destroy them all. Complete the goal to earn money and use it to upgrade your weapons. Join our two stick-hero heroes on a challenging journey across many battlefields around the world and discover a horrific plot.
Shoot your way and take out any bad guys at close range, or take the time to aim accurately before removing them from afar. Each mission in Stick Squad 4 requires a new unique approach but always leads to a unique outcome: there will be the unfortunate people will die under the guns of two professional stickman gunners.
To complete all the missions assigned in Stick Squad 4 you can choose from over 20 weapons, each with its own unique power as well as a variety of upgrade options. Please choose the guy who sticks a weapon suitable for every encounter. Game Stick Squad 4 has tasks that require fast attack, in which your reflex skills play an extremely important role.