Play Stick War 2 HTML5 Game Instruction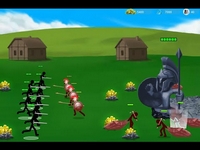 Description
:
Stick War 2 is an exciting defense game that has elements of RTS and strategy as well. You have to build a stickman army and try to conquer the world one territory at a time! Mine to collect gold and gems that you can use to buy new units like archers, soldiers and catapults.
You must try and create a stable resource but keep your army built too so you can defeat the attacking enemies and destroy their stronghold. For each territory you conquer, you get stat points that you can use to upgrade your units and strongholds. Can you conquer the stick world and win the war?
It was Stick Wars 2 again! Build resources, mana and soldiers to conquer your enemies with your stick-man army. This sequel to the 2D fantasy strategy of the original Stick War has a revamped interface, full mouse controls, and improved graphics.