Play Dragon Fist 3 HTML5 Game Instruction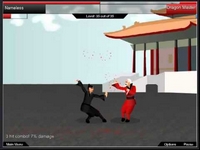 Dragon Fist 3 is a new beat besides 1vs1 game. Choose a character and defeat all other warriors to win the contest. Use special techniques like "angry snakes" and "shaolin fingers" to defeat your enemies. You can also use weapons like ninja blades and katana. Join the game, players will use all skills and agility to join the brave soldiers overcome difficulties, challenges and win in this dramatic action game. Unlike previous versions, in Dragon Fist 3 you will have the opportunity to know the best kungfu and many other rights. Join the game now to fight your way through the dragon arena and fight the evil fighters to become the champion. Will you be able to complete the assigned task successfully?
Coming to the game, players will have the opportunity to enjoy but fascinating action for gamers of all ages. With simple gameplay, realistic image system, vivid sound, Dragon fist 3 game promises to bring many great experiences. Join the game Dragon Fist 3 to enjoy as well as show all your best skills and win convincingly before the formidable opponent.