Play Big Bad Ape HTML5 Game Instruction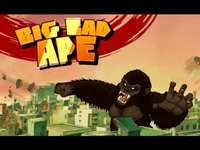 Big Bad Ape is an arcade destruction game in which you must help a giant ape to be trapped in a large glass cage in New York to escape to perform an urban carnage to avenge the humans. Kidnapped and cruelly locked you, by swallowing everything. You will have to go through cities, seaports and destroy everything on the road from people, cars to buildings. The more you cause chaos, the higher your score. Be careful because people have guns. Don't be intimidated by the police, the army, tanks and other helicopters, don't show mercy and destroy everything on your way.
Big Bad Ape is a great action game. The game will have all 16 exciting levels for players to experience. Each level will always have different challenges and difficulties for players to experience as well as destroy all to receive sweet revenge. Unleash your inner rage and give those people no mercy. You will only reach the next level if you cause enough destruction in the city. So destroy everything that happens on your way without paying any attention. Pay attention to Ape's heart on the top because his life is limited.