Play Five Nights at Freddy 5 HTML5 Game Instruction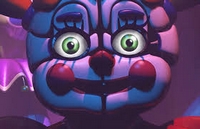 Description
:
Five Nights at Freddy 5 Sister Location is the fifth sequel of one of the scariest online games where your task is to survive. Will you have the courage to return to duty, as a late-night technician, and escape again for five nights.
Location is changed; this time, you will be working in a futuristic circus and will have to make sure the electronic machines will be operational for the next day show. Several different rooms will be accessible, depending on the nights. Five Nights At Freddy's 5 is a scary puzzle simulation game. Here is a restaurant with several dangerous and naughty toy puppets who want to scare you at night. As the only guard here, you need to confirm the real-time positions of them by searching on monitors.
Turn on the lights at the proper time to survive in Five Nights At Freddy's 5! Please write your name on the driver sensor down to bear facilities Freddy pizza. There are several monitoring modules in between the rooms; you should go to different modules traveling by conductor ventilation.
To walk, you must press W or S, and if you want to run, you can also press the SHIFT key. Your mission is to give electric shocks to the animatronics to entertain children and do not kill anyone else. If the manager of the sector does not control these animatronics will return to their old ways and begin to kill people who are. Go very carefully; you do not want to find one of these animatronic as Sister Location. Features: – Includes Custom Night! – Baby "death" Mini-Game – Full Extras Menu – Both endings available.