Play FnaF Sister Location HTML5 Game Instruction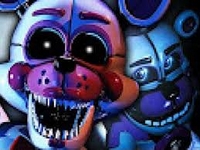 Description
:
FnaF Sister Location is famous for its obsessive-compulsive behavior, so that after the fourth part is the final part of the game, the long-awaited game is still in the works.
In the latest installment of FnaF Sister Location, players no longer have to be around Freddy Fazbear's Pizza. Still, this time they will be switching to Circus Baby's Pizza World with a more modern and scary character system. And you do not sit still or walk around in another cramped room that will walk around the building to monitor, detect, and find ways to stop the danger is stalking the corner.
Perform tasks on a new job at Circus Baby Pizza World, but do not forget about the risk of meeting with animatronics. The player needs to work in a pizzeria for children five nights and during this time to get acquainted with the new character Circus Baby and meet mechanized machines already known from the previous parts of the game: Funtime Foxy, Funtime Freddy, Bon-Bon, Bidybab, Electrobab, Ballora, Ennard, Bonnet.
Unlike the first parts, FNAF Sister Location has changed the gameplay, and now the tasks are similar to watching a movie with the possibility of participation, and the player does not need to sit in one room all the five nights long. Instead, every night you will receive new assignments, which you will try to accomplish and not die from the animatronics jumpscare. Come into contact with them, listen, and decide on further actions, but do not forget about the danger.