Play FNAF 7 Online HTML5 Game Instruction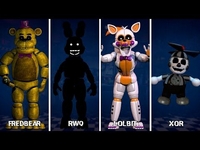 Description
:
FNAF 7 – Forget all the series you play and get ready for a new horror adventure in this version. Great graphics, great music and stunning graphics await you. FNAF 7 brings you unprecedented horror and action. Enjoy this dark world. More fear and more blood is waiting for you.
In FNAF 7, you'll meet old friends from previous installments – animation, created to entertain pizza visitors. They are adorable and fun during the day. However, something strange happens to them at night. From funny animal robots ready to play and sing songs with you, they turn into monsters. Well, despite the fact that their unpredictable behavior can cost you everything and even your life, you start working as a night watchman at the Freddy restaurant.
With the help of cameras, you'll see animated electronic moves and do everything possible to prevent them from reaching you. If you do not close the door/ventilation at the right time, one of them will enter the room and scare you. All are different and their habits are different. Make sure you learn how to treat them and thus your chances of winning will increase. Fortunately, this version of the game has lots of tutorials and tips so you will grasp the rules at the same time.