Play Whack The Thief HTML5 Game Instruction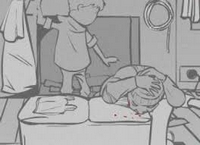 Description
:
Whack The Thief is another game in the Whack series. This time you have to protect your assets from an evil gangster and find all ten ways to beat the thief in this humorous, brutal game. Select different objects in your room to use them as weapons. Click and watch the thief die slowly and painfully, but don't forget it's just a game.
While sitting on the game console, you are rudely interrupted by a thief, how do you react and protect your house? Whack the thief allows you to test your defensive skills and stop thieves in many hilarious and terrible ways. You can find ways to spank this scary character. If you are a decent person or do not like violence, then this game may not be for you. It's really no barrier, and the kid you're in control really knows how to overcome pain.
When the thief enters your room, you can choose a range of different potential tools and weapons and then watch a cutscene to see how you control the intruder. Perhaps you would choose a tennis racket in an armchair, sacks hung on the fireplace and escape through the side door. The choice is yours, and you can replay the level to try out different endings. After playing Whack The Thief, you will definitely feel safer in your own home.
Smooth graphics and funny music of Whack The Thief created the appeal for this game. If you want to relieve frustration, stress, Whack The Thief is the first choice for you.