Play Don't Whack Your Computer HTML5 Game Instruction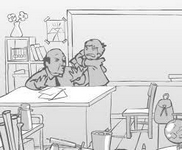 Description
:
Don't Whack Your Computer is a game where you can reduce frustration and frustration. Sometimes you want to vent your frustration on the computer because you've just died in a game, read something. It's annoying on the Internet; the computer is not responding to your commands, the computer is slow, the job is not complete, only one bad day or another reason.
The crazy classic game Don't Whack Your Computer now has more ways to smash your computer. 15 in total and all you have to do is find them. The secretary became a female warrior. She didn't sit still while the boss smashed her computer into ballistic. Touch the items in the office and remove all your aggression on the cartoon computer so your actual computer exists to serve you on another day. When you find all the ways to smash computers, you will help our heroes return to their original state before having computers to smash.
Don't Whack Your Computer tends to be violent so it's not for children, consider before playing. If you're stressed or stressed, Don't Whack Your Computer can help you.