Play Five Nights at Freddys Sister Location HTML5 Game Instruction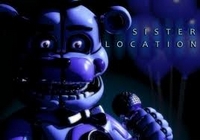 Description
:
Five Nights at Freddys Sister Location is the fifth part of Five Nights at Freddy's horror survival game. Five Nights at Freddys Sister Location has a different mechanism from the previous parts, eliminating the survival aspect, instead of in one place and preventing the villains from attacking, the player must move from room to room.
As a night shift manager at Circus Freddys Pizza World, work as best as possible and try to survive the five horrifying nights. Prepare yourself well because you will encounter danger, obsession, and terror from the stuffed animals every night. Play Five Nights at Freddys Sister Location and get past it.
It's got new characters, new places, and new terrors. You will be working in a futuristic circus and will have to make sure the animatronics will be operational for the next day show. Several different rooms are accessible depending on the nights, as well as 8 new animatronics and various mini-games. Throughout the game, the player interacts with animatronic characters.
In the latest installment five Nights at Freddys Sister Location, players no longer have to be around Freddy Freddys Pizza. Still, this time they will be switching to Circus Baby's Pizza World with a more modern and scary character system. And you do not sit still or walk around in another cramped room that will walk around the building to monitor, detect, and find ways to stop the danger is stalking the corner.
Not to fall their victim, you shouldn't allow them to get into the protection room. And for this purpose, you should lock the doors conducting in the corridor and also close the air shaft. Besides, you need to watch the movement of the mechanical dolls, looking through the surveillance cameras. At the same time, don't forget to glance at computer monitors; one of animatronics can make the way to the room.
Features:
- All five nights from the PC version of this game
- Custom night
- Baby death mini-game
- Full extras menu
- Two different endings