Play Don't Whack Teacher HTML5 Game Instruction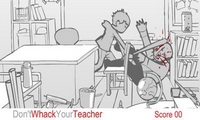 Description
:
Don't Whack Your Teacher is one of the Whack Your games series, this game is a great and fun stress reliever. Don't Whack Your Teacher allows you to take on some humorous and gruesome murder scenes without actually harming real life.
It was time to come to his office for a stern lecture. While listening to him turn around, you are looking around the room for weapons to hit your teacher. There are ten items in the room, standard school supplies, which can be used to attack teachers.
Don't Whack Your Teacher helps you to score points of the items you find and the many different ways you can prevent your teacher from your endless lectures.
There was a pen on the teacher's desk, so maybe that would create an interesting weapon. A stapler could be a potential weapon too. Would you pin the teacher's mouth, or would you repress him with the weight of a stapler?
There are many interesting and violent ways to hit your teachers. Some of them can make you cringe even when you are committing violent acts, and others will make you laugh out loud. Don't Whack Your Teacher graphic is black and white with different shades of gray. This makes the splash and blood drop even more graphic and dramatic.
Hover over an item to highlight it. When it can be used as a weapon, it will turn red. Click on weapons and see what happens to your teacher. The scenes are hysterical, and some of them are extremely unexpected. Don't Whack Your Teacher is not for the faint of heart.