Play FNAF 4 Online HTML5 Game Instruction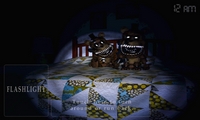 Description
:
Fnaf 4 is an early Halloween gift for gamers interested in the horror line of Android platform that developer Scott Cawthon brought not so long ago. This brings great excitement to the fans of this horror game.
You will be playing a kid trying to survive in a dangerous home. The old context is completely replaced. There is no known pizza shop but instead is the house of the character. There will be no 'home sweet home', but rather a dark scene, the darkness around and the lightning and the danger of waiting for him.
The baby must always look and listen to the ear in order to respond promptly to the sudden appearance of the stuffed animals as well as exploring what is happening around. Watching the clock look forward to early morning until 6 am everything will end.
The game is challenging and requires lots of patience, practice, and attention to be successful, which could frustrate some players. Similarly, the game's setting, story, and regular jump scare likely will be too intense for a younger audience. Players also may be interested in the other three titles in this series, and it may make them interested in the upcoming movie based on the franchise.
What are you waiting for? Let's get started with this awesome game. Wishing you always have a great time.