Play FNAF 3 Online HTML5 Game Instruction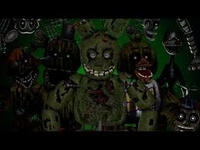 Description
:
Fnaf 3 is an indie point-and-click survival horror video game developed and published. It is the third instalment in the Five Nights at Freddy's series and is chronologically set thirty years after the events of the first game. Fnaf 3 has always been a strong name to the Mobile community, a name with simple yet frightening gameplay that haunts anyone. Fnaf 3 takes the player back to the theme of Fazbear's Fright. The idea behind Fazbear's Fright is to take advantage of the mystery surrounding Freddy Fazbear's Pizza – a restaurant full of bloody incidents that existed 30 years ago. The leftover parts of the dummy in the restaurant are immediately assembled and put into use for the purpose of intimidating visitors to visit.
Fnaf 3 is a style of play that still follows the path that the older siblings open up, where gamers have only one purpose … to stay alive through five nights at Fazbear's Fright. No weapons of the body, no ability to fight, not even able to move freely all you can do is sit buried feet in place, control the sound system and camera to distract Springtrap from the kill.
Thirty years after Freddy Fazbear's Pizza closed it is doors, the events that took place there have become nothing more than a rumor and a childhood memory, but the owners of "Fazbear's Fright: The Horror Attraction" are determined to revive the legend and make the experience as authentic as possible for patrons, going to great lengths to find anything that might have survived decades of neglect and ruin.