Play FNAF Online HTML5 Game Instruction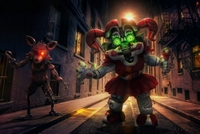 Description
:
Fnaf is a very mind-boggling game and not for the faint of heart. The story begins at Freddy Fazbear's Pizza, where there are 3 special bear bones that always attract the kids. But at night, when you take care of the store, that's when they can move.
In the Fnaf game, you have to survive after 5 nights. Your nights shift at 12 p.m and ends at 6 a.m and you have to protect yourself from these 5 moving toys: Freddy Fazbear, Bonnie the Bunny, Chica the Chicken, Foxy the Pirate Fox and Golden Freddy. You just sit down in your security room and watch them through the camera.
There is a total of 11 cameras in the restaurant, the video may be blurred or distorted, which can bring so many difficulties in finding where the toys are or what they are doing. Use the mouse, click at the specific CAM that you want, so that you can see what is happening in each room. The cameras are always ready for you to use in the Fnaf game. To come back to your security room, move your mouse to the rectangle bar with the arrow in it in the corner of the screen.
With some of the rooms, you just can hear the sound and the cameras cannot record all the places of the whole restaurant. Especially, the corridor on the right and on the left of the players, they are the blind spots of the cameras. In the Fnaf game, players cannot get out of the security room, but they can close all the doors, windows to protect themselves. At the same time, players should light up the corridor, so that they can see what the moving toys are doing and where they are.