Play Whack The Cheater HTML5 Game Instruction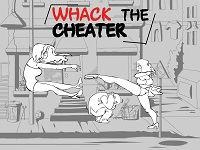 Description
:
Whack The Cheater you will play the role of a wife who takes revenge on the woman who has an affair with her husband. You come across a husband who cheats on you and you decide to get revenge not him but another woman. There are many ways you can get jealous, you can choose one of the objects there to perform specific acts of violence. Characters, scissors, cars, bricks …
When you choose items, flash videos will appear for specific actions such as: You approach the woman and kick her towards the lamppost, beating her legs. on her head and left with her husband crawling behind her; the woman screamed at the girl before smashing her to the ground, then the husband b run and then the woman proceeds to hang the girl with a rope before leaving the scene; you stab her with an umbrella or a pair of scissors your husband can be killed with the girl or not .
Find 12 ways to avenge the betrayal and the third zodiac, so that they do not go to ruin the happiness of others. Each way corresponds to a different video. The game is like an educational message to the younger generation that is to live with your partner.