Play FNAF 5 Online HTML5 Game Instruction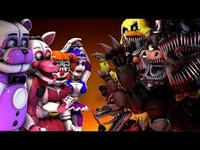 Description
:
Fnaf 5 is the fifth game in the thriller series Five Nights at Freddy's that makes players nervous or frightened, raising their hair at any time. Be sure that this series is one of the indie brand unique, a strong sense of the player and highly aesthetic.
FNAF 5 will bring new and more bizarre characters, or bring out details that have never been revealed before. This app directs the player to the mystery behind the production of Freddy and the fiendish characters that have appeared in the series so far.
In this latest instalment, the graphics have been a little nicer, more animated, and of course horror than many of the older ones. Overall, all that PC gamers have enjoyed before, the mobile version inherits everything
Not to fall their victim, you shouldn't allow them to get into the protection room. And for this purpose, you should lock the doors conducting in the corridor and also close the air shaft. Besides, you need to watch the movement of the mechanical dolls, looking through the surveillance cameras. At the same time don't forget to glance at computer monitors; one of animatronics can make the way to the room.
Mike is the main character and you as a player, will play the role of Mike. Mike is a new employee of Circus Baby's Entertainment and Rental, featuring animatronics which birthday parties will take on rent. They were originally intended for use in a pizzeria called Circus Baby's Pizza World. But the pizzeria had been shut down shortly before it was supposed to open due to "gas leaks". As his first-night starts, his HandUnit guide assigns him his daily tasks and explains Circus Baby's was formed.