Play Five Nights at Freddy's 4 HTML5 Game Instruction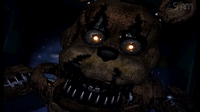 Description
:
Five Nights at Freddy's 4 is an indie point-and-click survival horror video. In the fourth game, you no longer have a camera system, but instead, you have two doors, one closet, and a bed behind you to check. Use your flashlight and your logic to explore your surroundings, find clues, and also survive!
You must muster your courage and bravery, and last for five nights packed full of terror! Five nights at Freddy's 4 games are 1 Halloween food, video games, video games, video games, video games, video games Part of this game. You play the role of a boy trying to survive in a house full of dangerous fads.
The old background is completely replaced. There is no familiar Pizza shop every day, but instead, it is the character's home. There will be no 'Home sweet home' but instead is a gloomy scene, the surrounding darkness, and the flickering rays and the dangers waiting for him.
Freddy Fazbear, Bonnie, and all of their deadly robotic friends are up to their old tricks again. How long will you last against them as they continue their rampage in this scary action game?