Play Whack Your PC HTML5 Game Instruction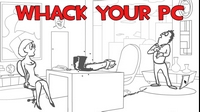 Description
:
Whack Your PC is a violent action game in which you have every way to destroy your PC. The PC that has been used for a long time is often corrupted and doesn't work, is infected with a virus, and affects a lot. Your work also leads to inhibition for yourself. On a day like every other day, you can't stand it and take concrete actions — this chemistry by smashing the object until there is nothing left and impress your secretary.
This is a fun cartoon-style game; the task of the game is to find all 12 ways to destroy your computer. Search for objects in the office and click on them to do some crazy things with your personal computer. These items can be straightforward items such as pins, golf clubs, … choose precisely according to the settings of the game. Each element corresponds to a specific action, and a short flash video will represent it.
To win this game, you need to be persistent in searching; it is not difficult and requires high requirements from the player. So any object can participate in the game. The game will help stressed people release very well, helping you kill your free time productively.