Play Whack The Creeps HTML5 Game Instruction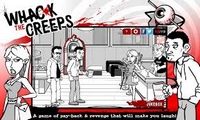 Whack the Creeps you play a girl who has to protect herself from the harassment of two men in a bar. At a Swedish bar in the evening, some loathes and slums are harassing you. Although very obsessed and panicked by the threat of those two, you are very smart and agile, you will search around the room for items to defend themselves, whereby each object has a way of Cruel punishments for nasty men, try to find ways to beat the two men, show them that women need respect and love. girls can use as weapons to fight them, can find all 19 ways to make the creeps pay for their behavior, everything you choose corresponds to a story that will happen. The game is really simple and all you need to do is click on the things in the bar, then enjoy the story.
You can download or play the game directly on your devices such as computers, Android, IOS. Although the game helps people relieve stress in daily life very well, there are scary images of violence so children should not participate in this game.